3:03:51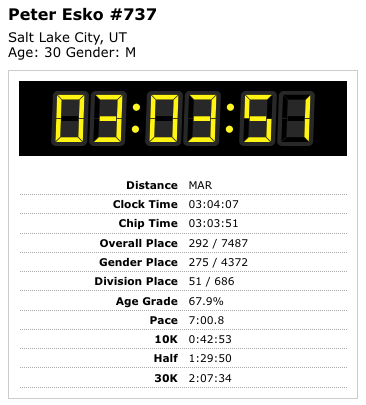 That's the time. Where to start…
The Philadelphia Marathon fell on my 30th birthday this year, I've run 3 prior marathons with a PR or 3:17 prior to this one. I was gunning for 3 hours flat…
Am I happy with the race, yes, do I wish there was no 3:51 tacked on to the back of that 3:00:00, yes.
Race day was beautiful, my wife and I stayed at my stepsister's apartment in downtown Philly that was no more than a mile from the start. It made for the quickest easiest travel to race morning I've ever had. Chicago always involved the El train and walking and Paris was on the metro and some walking after that.
Temperature at the start was somewhere in the low to mid 40's and after last year's horror stories of 21 degree temperatures I was counting all sorts of blessings at that point. I'm not sure if being from Salt Lake City has hardened me much but it felt warm and I was in shorts, short sleeves, and a pair of throw away gloves that the race provided (I sort of wish I had them back now but got too warm and didn't want to carry them for the 21 miles after things warmed up.)
All in all, the race organization was quite good, I didn't have any problems getting into my starting corral. Putting my bag in gear check was a bit of a pain, UPS provided gear check services, but unfortunately parked their brown trucks a bit too close together making for a narrow corridor for people to get through, no biggie though.
I'm not sure if things started promptly at 7 A.M. but nothing seemed to drag too much so no complaints there. It was a bit disconcerting starting with the half marathoners too, but also no big deal. After a mile or two it was nice to have a bigger group for encouragement and talking with to pass the time.
There was a surprisingly large group of 3:00 people out there, although I guess in retrospect a fair number of them dropped off at the half.
Philly is by no means a flat course, but this is not a bad thing. After running Chicago twice it was nice to break up some of the flat running with a couple hills in both directions. Running through Fairmount Park around the half did have some really steep downhills though, a couple of which were almost disconcerting.
The first half is quite flat, with a couple hills starting to creep in around mile 8ish as you head into University City and the Fairmount Park areas. These flatten out again right through the half and into about 16ish.
Timing splits say that I was on pace through 30k or 18.6 miles. That's the last split before the finish and according to my memory sounds about right.
On the out and back between the art museum and Manyunk was where I felt things slip a bit. In particular between miles 20 and 24. My concentration faded and I fell off the pace for a couple of miles. There were a couple rollers in there, maybe that was the cause?
Around mile 24 I found a 2nd wind of sorts and was able to pick the pace back up and finish strong but the damage was done. I couldn't get back the minutes I had lost in those couple miles.
The out and back for the last half was interesting. It provided an interesting perspective of the elite athletes as they cruised back down and of those behind after the turn. My friends all agree that I'm one of the biggest cheerleaders out there for everybody regardless of ability or whatnot, and if anybody remembers a guy in a Livestrong shirt running back towards the finish and cheering everybody on while running that was probably me. I think that I was able to draw some strength out from cheering on those on the other side of the course.
The last 2 miles was for my unborn daughter, my wife and I found out that we are having a girl on the Friday prior to the race. She made me strong for the last miles.
From a race strategy perspective I think that things went well but not perfect. I carried two cliff shots with me, took one around the half and one around mile 18. Perhaps a 3rd would have helped in towards the end. Also I had trouble with the taste of Gatoraid during the race. I train with it but don't run with a bottle so I guess having it while in the middle of the race could have thrown something off. Water was the only thing I could really stomach so I kept going to water at the stops knowing it wasn't as beneficial.
Post race was great, at least as great as can be expected for just running 26.2 miles. My parents, brother, step-mom, step-sister, and wife were in town. Rounding the corner at mile 26 I saw a large group of them on the grandstands with signs and cheering me on, this was the first time that I've had family and friends in town for a race and it was tremendously inspiring to have them all there.
The only downside of family there was that they kept coming over after the finish as they trickled in from where they watched. I kept having to get up off the curb I was sitting on and boy howdy is that painful after a race.
Shoes worked out great, no black toenails etc…I highly recommend the Nike Lunar Racer as a fast race shoe. The Brooks Infinity Notch shorts worked great too, no chaffing issues.
1468 miles in training…
All in all lots of good, no bad, and 3:51 to shoot for in the future…
---