Utah Valley Half Marathon…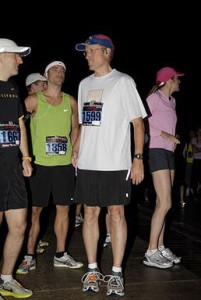 So the Utah Valley Half Marathon is complete. I ran it 7ish weeks after my daughter was born and I've got to say that it's been a hell of a 7 weeks, all good, but very different. Everybody expects their lives to change with a new child, and after your child is born everybody says that there is no way to prepare. It's all true.
Anyway, on to the race…
I'm all for early race starts (read this as 7-8 a.m.) But a 5:30 start was way early. I inquired to the organizers and it's due to the Utah Department of Transportation not wanting to close Provo Canyon for too long. There is a full marathon as well that starts an additional 13.1 miles up the canyon so I can understand this concern. That said, it is a point to point course so a 5:30 start means a 3:30-4:30 bus ride up to the starting line. On the good side, the kid has been training me for this sort of sleep deprived activity for 7 weeks now. When she got up at her normal 2 a.m. I just didn't go back to bed, made a really strong latte, packed up a couple things and headed for the hour drive down to Provo from Salt Lake.
The bus ride was quite fun actually, it was nice to preview the course and see where the downs were, where the flats were, and where the ups were (Not a lot of up, mostly down, and a bit of flat.)
The race started a bit late, not too much though. First mile was good and fast, downhill and got caught up in a bit of the elite athlete pace, or at least watching their backs as the motored away. Top two finishers were split seconds apart at 5:02 per mile, umm, yeah, I can touch that pace for a couple 400 repeats but other than that I never see it.
First mile was downhill, followed by a short up somewhere between one and two. Definitely not steep, just a bit more sustained than I had originally expected. When the first hill started I passed a guy who had gone out way to hard and was slowing quite a bit.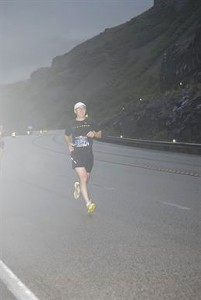 Rain started to fall at about mile 2. And so did the downhill dash. Running Provo canyon was beautiful. By this time the "sun" was out, by which I mean it was light enough to see the surrounding canyon walls. It truly is an amazing canyon, sweeping rock walls, peaks around, and a couple happy waterfalls to run past. (The start is right near Bridal Veil Falls, a great ice climbing location in the area.)
I don't know if I slowed or two others just had a better downhill pace than I did but I got temporarily caught by two runners somewhere in the 4ish mile range. The guy wasn't very talkative but the girl was. I found out she was currently in 6th place of all female runners and tried to keep her truckin' as long as I could. We joked about the rain a bit and it was good to have somebody to run with, I was alone from somewhere near mile 2 on. Towards the end of the canyon I found out she was shooting for somewhere around a 7:00 per mile pace, (we were at about 6:25-6-30 at that point.) I didn't mean to scare her with telling her what pace she was at but when the race flattened out near the bottom of the canyon she fell off fairly quickly. I think she may have gotten passed in the final miles and finished 7th but I'm not sure. She had a cool crew of super fans who leapfrogged her along the course in their car (now those are good fans!)
The late middle miles are always my weak point. I'm good pacing the first half plus, and I can get it back for the final couple miles but those ones tucked in towards the later half are always hard for me mentally. In Philly I lost my time in the 19-22 range, this time it was in the 8-11 range. I caught up to a young kid, I think he was 16 and ran with him for a bit, tried to encourage as much as I could. I think he appreciated it and did what he could to push me too. We ran through about mile 10 together, after that he dropped off the pace a bit, I think he was having a couple stomach issues, mine would come a day later.
The later part of the race was down University Boulevard in Provo. Right past my Alma Mater's rival stadium. It's ok though, we got an invite to join the Pac-10 and they didn't so I'll leave it at that. Thanks to the local Police for taking care of traffic at a number of lights. More fans were starting to make their way out and brave the light mist that was falling at this point.
Last but not least was an overpass right around mile 12. This thing was short but really steep, just the thing to give the legs a lovely last wake the hell up call for the last mile. Just before the hill I got a flyby from the winner of the hand-cycle marathon. That dude was flying. Especially with the downhill canyon course.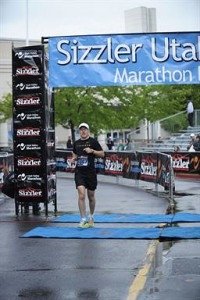 Last mile just wrapped itself down and to the finish at the Provo Towne Center mall. I swear that the clock said 1:26:15 but I guess that was a couple feet before the line so I'm sure the chip time is correct. 1:26:19 chip time. Previous half marathon PR was 1:28:38 so it looks like I took 2:19 seconds off my previous from the Philadelphia Distance Run, I think it's part of the Rock & Roll Series now.
Decent finishing area and was really happy that the massage tents were setup and going. My bag hadn't been sorted yet so I got a quick leg massage to work out some of the funk, those guys are amazing.
Once I got my bag and put on dry clothes I hung around a bit but was anxious to get back to the wife and little one. Also I noticed that my teeth were chattering a bit from the rain and cold during the race, so I went to the car and headed home. If I would have known I won 3rd in my age group I might have hung around a bit longer for the award. I get to pick it up this weekend, so cool (and unexpected).
Much thanks as always to the volunteers along the race. They are the unsung heros and can't ever be thanked enough. Next race thank your water cup provider as you pass, it won't cost you much time.
So long story short this is the first race of many now that I'm a father. I love being able to think of my daughter when my legs are burning and try to be strong for her. I'm encouraged by my finish and know that I've got more potential in there. I'm also encouraged that I've found at least some balance with trying to take care of the little one and still staying active and training.
Good race. Fun times. We'll see about next year. That start time is just so bloody early…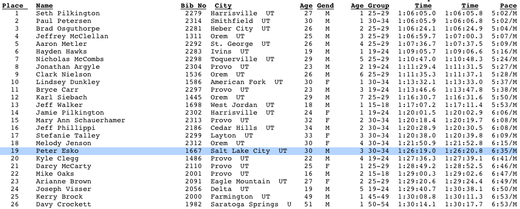 ---
About this entry
You're currently reading "Utah Valley Half Marathon…," an entry on 30 Three Hour
Published:

6.18.10 / 1pm
Category:
Tags: