Sugoi Ready Sleeveless Tech T – Review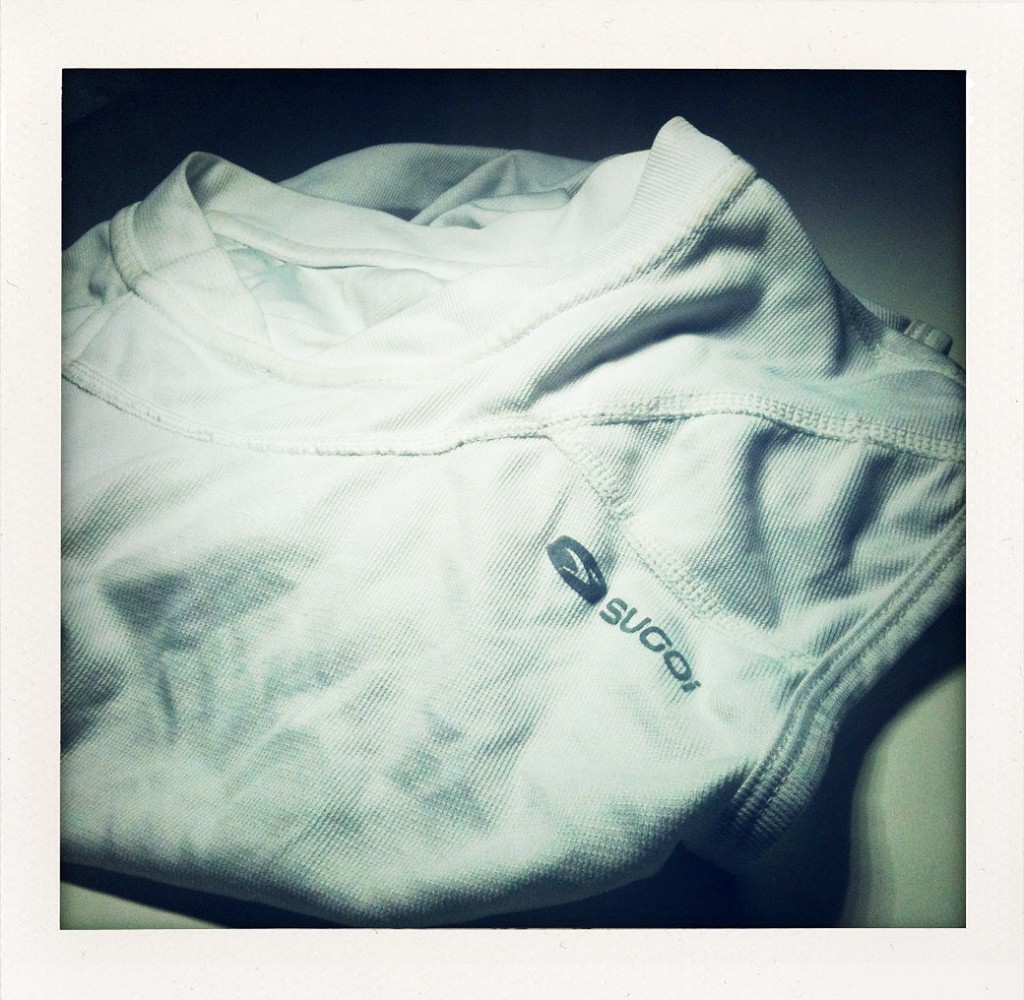 So I hate terms like "long term test" etc. But this probably qualifies. I've had this thing for the better portion of a year now and to date it's my favorite sleeveless running top. Fabric feels nice, and no chafing on longer-15+ mile runs…the cut is good for a skinny guy like me. I've got the small and it covers all the right places but doesn't bind anywhere (Sorry Asics, I've got one of your sleeveless t's as well and the collar is just way to freakin' tight even for my little neck).
Especially for hot weather I normally train in white shirts and a white hat, don't find the need to add any extra radiant heat if unnecessary, but this thing comes in black too and I'm tempted to pick up a couple others.
One of my favorite features is the cut of the collar, it's basically a v-neck with a bit of material in between the v so you don't feel like you are doing some sort of 80's hairy chested manly man, but I digress. It makes the fit just right, snug but not too tight. I'm also not a fan of the skinny shouldered full blown racing singlet, if I need to go down to that level of heat avoidance, I'll just take my shirt off…
It's got all the standard stuff, nice soft wicking fabric, Sugoi calls it FinoTech. The tail end is slightly longer for common decency (crack kills). Nice classy and not overplayed logos that don't scream out to people but get the job done. No tags to get itchy, and just a little bit of detailing that says I care but not enough to wear some completely matching outfit today.
I'm about 5'7″ and 140-145lbs. I've got a small and it fits well, not too snug, not too loose. I prefer something that is well fitted and can't stand super baggy running clothes, but I don't need to be sausaged into something either.
Oh, and I've taken it on several trail runs too and while I don't make a habit of running into brushy things I haven't found any snags on it yet so I'm inclined to say it's got some longevity and durability in the outer fabric finish. Outside has a bit more of a woven quality, inside is much smoother and way soft.
So all things being equal, it's a damn fine sleeveless running top. Covers what it needs to well. Wicks with the best of them. No chaffing on my tender bits. And all this for a very reasonable price…
Check it out over at www.sugoi.com
---